Wood Flooring: Prefinished Solid Plank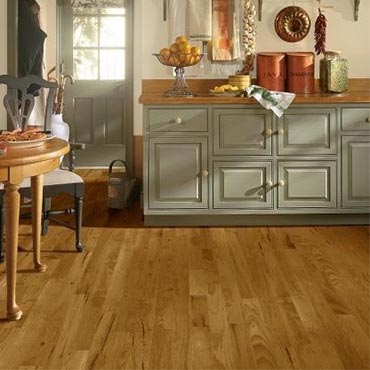 Solid, like it sounds, is milled from a single 3/4" thick piece of hardwood. Because of its thickness, a solid hardwood floor can be sanded and refinished over several generations of use. One of the characteristics of solid wood flooring is that it expands and contracts with changes in your home's relative humidity. Normally, installers compensate for this movement by leaving an expansion gap between the floor and the wall. Base molding or quarter round is traditionally used to hide the extra space.
Solid wood flooring is completely lumber. It is available in unfinished and pre-finished. Solid wood flooring is produced in:
 Strip - in thicknesses of 5/16" to 3/4" in widths of 1 1/2, 2" and 2 1/4"
 Plank - in thicknesses of 1/2" or 3/4" and widths of 3" to 8"
 Parquet - geometrical patterns composed of individual wood slats held in place by mechanical fastening or an adhesive
Brand Overview
---

---
Profile
|
Website
|
Design Tools
|
Warranty
|
Install
A trusted brand for over a century. Superior quality through exacting precision in the milling process and rigorous inspections featuring up to 75 quality checkpoints. A luxurious selection of design styles, colors, species, and specialty finishes.
---

---
Profile
|
Website
|
Warranty
|
Install
|
Maintain
|
FAQs
|
Green
Since its founding in 1985, Mullican Flooring has dedicated itself to creating the highest-quality hardwood flooring in the world. The company's founders knew the combination of precision milling, advanced kiln-drying techniques and the most demanding inspectors available would result in products that would be unmatched by its competitors.
---

---
Profile
|
Website
|
Warranty
|
Install
|
Maintain
|
FAQs
Somerset Wood Products is one of the largest manufacturers of Appalachian lumber and flooring in the midwest. Our corporate headquarters is located in Somerset, KY. We have two supporting production facilities, also located in the Somerset area, with a staff of over 300 employees. We also employ a full time forester, to oversee responsible forestry management practices that exceed Best Management Practice standards.